Here are some questions and answers regarding fiber internet service:
Fiber-optic systems are made up of tiny strands of glass that carry data using light waves, resulting in much faster internet speeds and better reliability than traditional copper lines. Most internet providers use fiber in their systems but use copper lines for the final connections to the home, resulting in slower speeds. Allamakee-Clayton Electric Cooperative and fellow cooperatives believe "Fiber To the Home" or FTTH is the best, most sustainable communications choice. 
With our FTTH service, we offer "symmetrical" speeds, meaning you'll enjoy the same high speeds whether uploading or downloading. 
A fiber-optic network sends and receives data at the speed of light. In addition to super-fast transmission speeds, a fiber optic network can carry an extremely high amount of data. Fiber is also more reliable than other networks, because it's less susceptible to interference and damage from lightning and other acts of nature. 
Broadband commonly refers to high-speed internet access that is always on and faster than traditional dial-up access. Broadband fiber-optic networks can deliver voice, data, video and email services over the internet. 
Our communities have long suffered from a lack of broadband equality – access to the same speeds and capabilities as those in less rural areas. Broadband availability across our service area will help close the digital divide between those who have access to advanced technology and those who don't. A few of the many advantages of broadband access are:  
online teaching capabilities allowing our students to learn from home  

healthcare benefits such as telemedicine 

work-from-home interoffice connectivity and videoconferencing capabilities that will help professionals stay in their homes, while being productive  

quality of life improvements through enhanced communications  

economic development and growth in rural areas. Access to high-speed internet can raise home prices and attract businesses to communities. 
Our AC Skyways division has expanded to over 1,000 subscribers and is still growing. These subscribers are served with mostly wireless broadband and some satellite too. When it comes to high-speed internet, fiber is truly the gold standard. We know this, but up until now, the cost has been a prohibitive factor. With an average density of four members per mile of line in our rural areas, the economics to deploy fiber have not been there. 
Rural Allamakee Fiber Project Map
As we continue with these projects, letters have been sent to the addresses of the locations that are in the fiber service area.   
You are always welcome to call our office at (800) 864-1611 to answer any questions you may have. 
We have no contracts for Residential Services. 
Please check the following pages for updated timelines on the fiber projects:
Once you sign up for service, fiber installation is fairly simple and non-invasive.  The fiber will be hung or buried underground.
Next, we attach the fiber line to a protector near your electric meter where the home/business inside wiring connects with the outside wiring. 
Finally, we will install an ONT in that protector.  We will have to install a power supply for the ONT inside the home.  We will also have to convert in home wiring for the service or install a new cat5 cable and jack for the router to connect to the internet.   
One of our member relations representatives will contact you to schedule an appointment for an in-home installer to finalize your connection and test the services from your equipment. Once the installation is complete and tested, your service should be ready to go.  
Fiber construction often involves digging or trenching and our trucks to be in the neighborhoods. Our contractors are trained to minimize any damage, and should any occur, to repair before leaving the job.  
When our contractors are working on your property they will leave a door hanger on your door handle with their direct contact information. Please feel free to contact them directly to voice any concerns you may have.  
Feel free to call us at (800) 864-1611 to share any concerns about the construction process. 
When constructing fiber lines, there are 6 steps that need to take place from the time the contractors start digging until activation in the home:
General Fiber Construction
Step 1
One of our representatives will contact you to determine the best route from our fiber service vault to your location.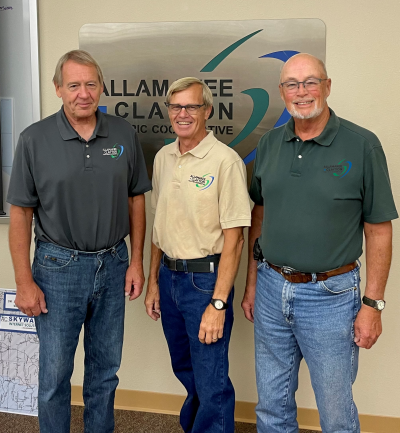 Step 2
The mainline fiber is constructed and fiber vaults are installed throughout the project. The Co-op has contracted West Union Trenching and R&S Fiber Optic Services for these projects.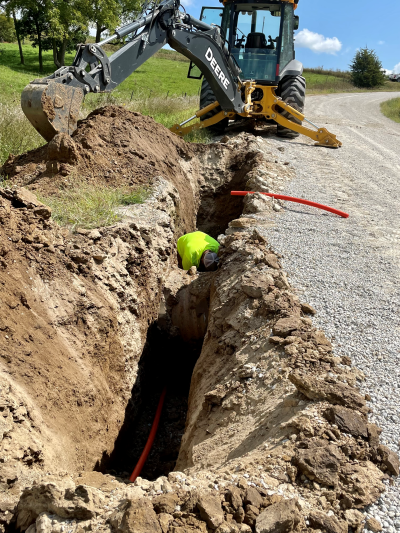 Step 3
We will bury the fiber cable to your location (if applicable) and then install a fiber connection box at your location. The Co-op has contracted West Union Trenching and R&S Fiber Optic Services for these steps.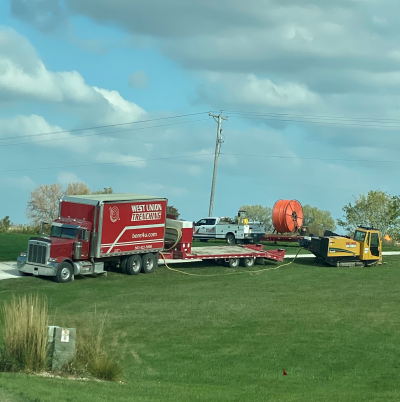 Step 4
Fiber cable will be connected at your location and the mainline fiber will be connected or otherwise known as 'splicing'.
Step 5
Fiber cable will be tested in preparation for service installations.
Step 6
Service activation can now be scheduled at your location.